I have many memories as a child reluctantly going to the Indian bhara with my parents. Whether it was New York's Jackson Heights, Toronto's Gerrard or Chicago's Devon, visits to these Little Indias were often the most dreaded part of our family trips. My brothers and I would complain, mostly while we sat in the van and waited for our parents to finish their to-do list.  What were we going to do at the saree shop? What did we know about grocery shopping for spices and exotic vegetables?
We would sulk in boredom, until our parents  finally rewarded us for our patience and it would be time to eat. Once we eagerly passed around the chaats, dosas and kaboobs, getting our hands dirty in public, we would forget why we had protested in the first place.
Now, as an adult, living in Chicago, I've found myself willingly, with friends and siblings, without the company of parents (and the Dodge Caravan), taking public transportation and trekking all the way over to Devon Ave.  Maybe my brothers and I are nostalgic, or we did grow up to be cultured. The only thing I know for sure is we enjoy eating delicious food.
We're all going to make our kids go to the Indian bhara too, huh?
From a veteran visitor of Devon, here are the best places to dine for your own Devon adventures.


Best Café - Uru-Swati 
2629 W Devon Ave
(Between Rockwell St & Talman Ave)
Chicago, IL 60659
Uru-Swati is the perfect place for chai and dosas after a long day at work. Served with aromatic sambar and coconut chutney, Uru-Swati dosas are perfectly crispy and stuffed with savory potatoes. Reasonably priced, Uru-Swati also has a large menu of fresh, vegetarian entrees including a delicious palek paneer and channa masala. Get a quick bite or mini meal, but don't leave without masala tea! A modern cityscape mural fills the colorful and casual dining room and HD flat screen televisions play the latest Bollywood music videos. Service is delightful, with often the same friendly and familiar elderly waiter who takes your order and refills your water glass, coming in handy, if you choose to go en route masala.
Don't miss: Samosa Chaat, Paper Masala Dosa, Mysore Masala Dosa and Masala Tea
Best Vegetarian -Â Mysore Woodlands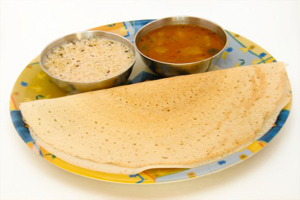 2548 W Devon Ave
(Between Maplewood Ave & Rockwell St)
Chicago, IL 60659
Mysore Woodlands is one of Chicago's most beloved South Indian restaurants. With family style options and traditional thalis, Mysore Woodlands offers flavor-packed vegetarian items that will please even the most skeptical carnivore. Combination plates are an oasis on an overwhelming menu; you can try a little bit of everything for under $15. The sambar alone passes the litmus test for genuine South Indian cuisine, but choose from any one of the dosai, vada, idly or uthappam and you will have an authentic balance of spices. The dosai are served with an array of sauces, including the crowd pleasing coconut chutney made from fresh coconuts. Finish the meal with a cup of Mysore coffee and you won't regret it.

Don't miss:  The Woodland Special, Rava Dosa, Idly Appetizer, Sambar Vada, Bisi Bela Bath and Mysore Coffee.
Best Upscale -Â Sabri Nihari
2502 W Devon Ave
(Between Campbell Ave & Maplewood Ave)
Chicago, IL 60659
White table cloths and candles mean upscale…on Devon. Without the upscale prices, for some Pakistani fine dining, come to Sabri Nihari. Get your nihari fix by starting with their namesake dish, the Sabri Nihari. You will savor the tender beef and the fluffy naan dipped in its spicy gravy, but your favorite dish will be the chicken makani, commonly called butter chicken. Meat-lovers' haven, Sabri Nihari is not the place to satisfy your vegetarian cravings, but their vegetable samosa, with its flaky crust is the best on Devon Ave., and so is their creamy mango lassi.
Don't Miss: Vegetable Samosa, Chicken Makani (Butter Chicken), Frontier chicken, Garlic Naan and Mango Lassi.

Best Hole-In-the-Wall -Â Ghareeb Nawaz
2032 W Devon Ave
(Between Seeley Ave & Hoyne Ave)
Chicago, IL 60659
East of the main hub of Devon restaurants, Ghareeb Nawaz is the best kept non-secret for authentic, Indo-Pak cuisine.  Open 24/7 and with nothing on the menu more than $4.99, Ghareeb Nawaz provides late-night cheap dishes and generous proportions from a menu of choices you can't go wrong with. Rich in flavor and spices, Ghareeb Nawaz is biryani galore, with over 15 varieties including: chicken, fish, beef and vegi to name a few.  Carry out your meal or dine-in to witness the collection of taxi drivers who prove Ghareeb Nawaz's authenticity.
Don't miss: Lamb Biryani, Chili Chicken (spicy), Chapli Kabab and Baghare Baigan.
Best Buffet - India House Restaurant 
59 W Grand Ave
(Between Clark St & Dearborn St)
Chicago, IL 60610
Okay, so we're not in Devon anymore, but it's worth diverging! On Devon Ave.  you can easily find a decent lunch buffet, but if you really want an impressive, extravagant, worth-every-penny buffet, trek back to downtown and dine at India House Restaurant.  They offer an expansive selection from over 145 traditional and fusion menu items. A salad and chutney bar, samosas, dal, mala kofta, okra masala, aloo gobi, shaag corn (yes, shaag corn), paneer makani,  mango chicken, goat spare ribs, tikka masala and fish curry are just to name a few of the items at the 14 item changing buffet station. After you return to the table, already with two plates in hand, there awaits sizzling tandoori chicken and a basket of fresh naan. Head back for dessert (if you can) from choices including: gulab jamun, rice pudding, mango kulfi and kheer. The India House buffet is much like an infomercial that keeps repeating, "And that's not all…" as they also offer you chai.

Don't Miss: India House Restaurant Groupon, Mala Kofta, Chicken Tikka and Aloo Gobi.
Did your favorite spot make it on the list? Let us know!
— TASHWEEN ALI, Managing Editor